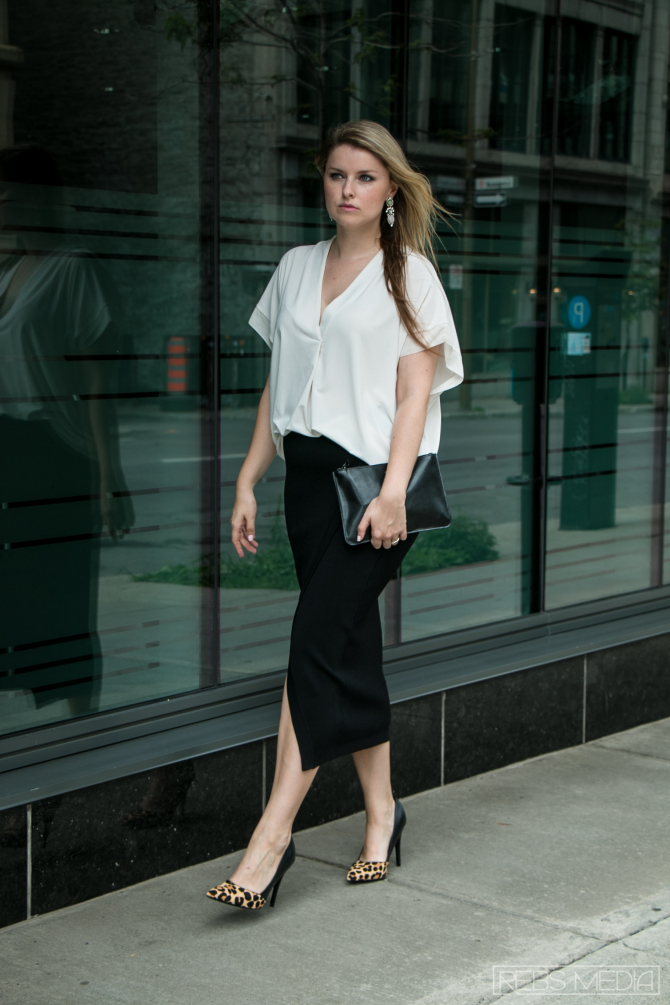 Photo credit: Rebs Media
Outfit details: Tres Chic Styling – Malene Birger cream drape blouse & Robby Kobo black pencil skirt // Guess leopard pumps (similar: Sam Edelman 'Dora' Pointy Toe Slingback Pump – Nordstrom) // AGjeans black oversize clutch (also love: Rebecca Minkoff quilted love pouch- Shopbop)
Another stunner from my Tres Chic Styling collaboration – perfect for cocktails out on the town with the girls! I am simply loving the drape look & fabric of this blouse on top of a fitted skirt – it's so chic & classy!  These two luxurious pieces can be mixed & matched to create various outfits, be it dressed up or down. For instance, the cream top could easily be paired with jeans & wedges for a more casual look & the black pencil skirt could be paired with a pin striped shirt for an office look. I believe that details are just as important as the outfit! Hence why I decided to pair this ensemble with leopard pumps for that little oomph factor! I think it adds a bit of visual interest to the outfit, and the crystal pendant earrings & the black oversize clutch pull the outfit together for a perfect picture of sophistication!
Tres Chic Styling boutique made me discover Ronny Kobo, a designer I admit I did not know before, but I swear she makes pieces with me in mind lol! Everything fits me like a glove and looks simply fabulous, like this black pencil skirt! I have yet to try on one of her pieces that did not look amazing!! Definitely one of my favorite designers and you'll be seeing more of her pieces on the blog!
This was another fabulous photo session with Rebecca from Rebs Media! She made me look so tall and elongated my legs by catching my steps at the right moment! Well, the pictures speak for themselves! 🙂
Have an amazing weekend lovelies!
Kisses,
WCX
P.S Check out http://www.tcstyling.com/ for more details about this awesome boutique!!!